A safe, secure and sound opportunity.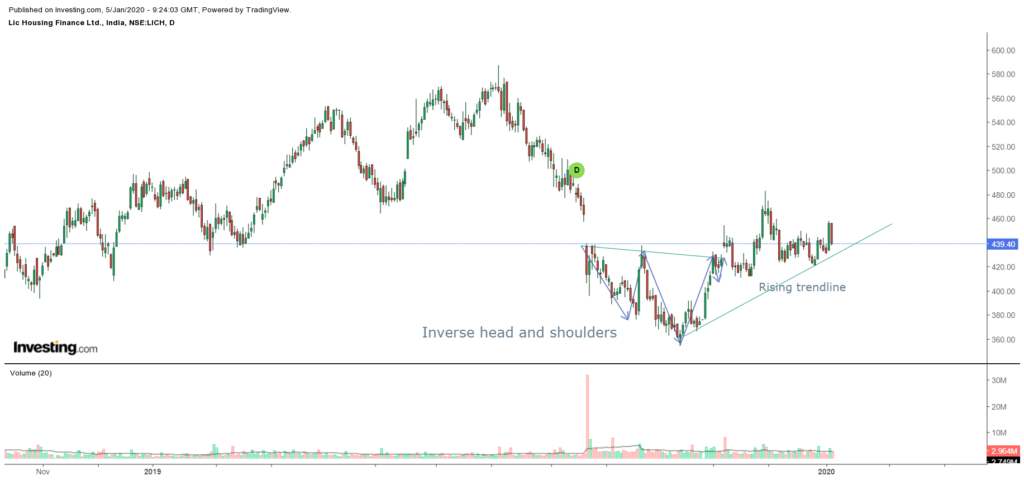 With the NIFTY 50 closing at 12,226.65 on Friday, 3rd January one can conveniently say that a structural bull run in underway. However, the P/E ratio (Price to Earnings ratio) stands at 28.44 which is certainly no good news and an investor would have a reason to worry.    In this article of Sunday analysis we have presented below a stock – LIC Housing Finance which seems a good pick not only from technical outlook but is also a value buy.   
The P/E ratio stands at a lucrative figure of 8.27 and the company has recorded a growth in EPS of 15.75% p.a. from 2012-2019. The stock has come down to a multi-year support level and in September – October 2019 formed an inverse head and shoulders pattern to reverse its a downtrend.
A rising trend line has emerged which can be seen on the chart presented alongside. Longs can be initiated with a definitive stop loss of 430 and a target of 469. The current market price stands at 439.4. The risk-reward ratio is approximately 1:3.

Disclaimer: We have provided this information to traders and investors for educational purposes only. It is neither a legal interpretation nor a statement of SEBI policy. Before making any investment or trading decision it is advised to consult with your financial advisor.
To learn about the market; How to invest or trade in the stock market? click here.
Happy trading!  
Satyarth Grover.