Sit tight to witness new highs in this NIFTY bull run! Weekly analysis 28.12.2019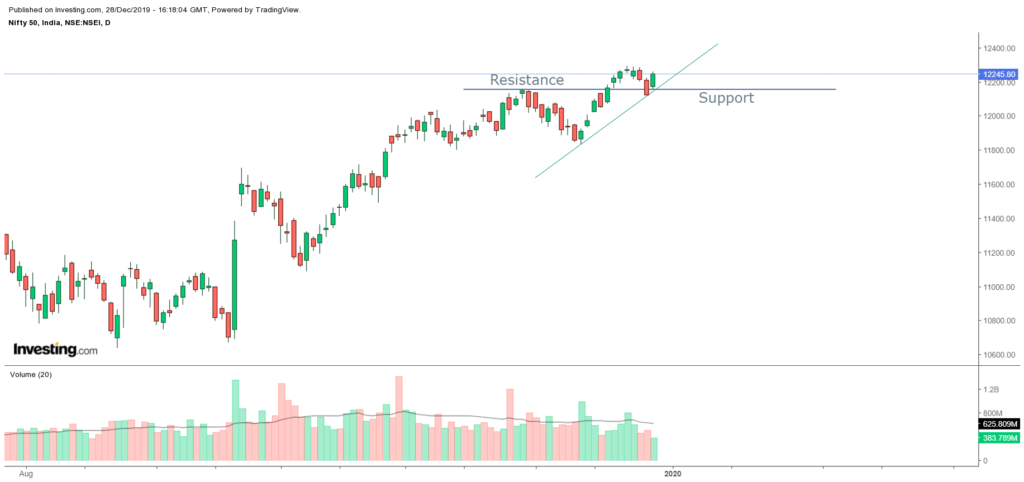 After a truncated week Nifty was able to close on a positive note this Friday and proved the significance of resistance and support zones. In this classic live example, we have role reversal at play. Resistance has become support. A zone as narrow as only two points viz. 12157-12159 has acted in a crucial manner and we can see an accelerated trend line emerge on the NIFTY chart.
It must, however, be noted that this trend line has not been tested and shall be validated only in the near future.    For traders, who are trying to short the market based on oscillatory analysis will not prove fruitful in upcoming trading sessions. Zones to look out for would be 12290-12300. NIFTY is likely to make a new high this time and a hedged position with a bullish point of view will help in netting profits. Stop loss would be 12155. 
Disclaimer: We have provided this information to Traders and investors for education purposes only. It is neither a legal interpretation nor a statement of SEBI policy. Before making any investment or trading decision is it advised to consult your financial advisor.
Happy Trading!
Satyarth Grover