'What is the horsepower of this auto sector share' ? Nifty Daily Analysis -26.12.2019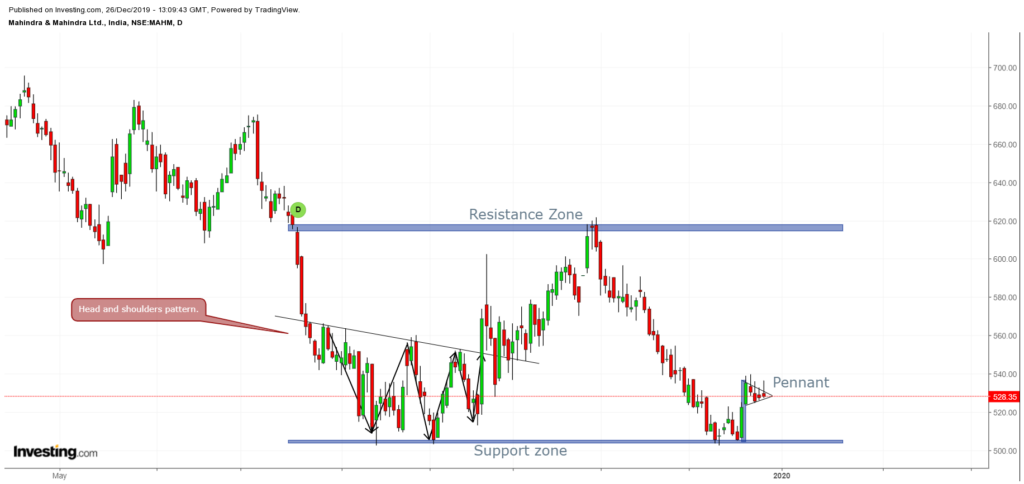 After reaching an all-time high of 12,287.15, Nifty may be witnessing a slight correction and would possibly then continue its bull run. It would not be a good idea to short the market as an uptrend is still in function. According to Dow theory, "A trend is assumed to be in effect until it gives definite signals that it has reversed."
In light of this, given below is a technical analysis of the script Mahindra and Mahindra (abbreviated as M&M). After being in a downtrend since September 2018 it reversed it's a trend and ended the jinx in September 2019 by forming a reverse head and shoulder pattern and broke the trend line with heavy thrust.
However, after establishing a strong support zone at 500-505 (500 being a psychological level also) the stock revisited it in the first half of December 2019. The support zone was confirmed and after heavy pressure, the price has consolidated and has formed what can be called a bullish 'pennant'.
The script closed today (i.e. Thursday) at 528.35. Longs can be initiated with a definitive stop loss of 520-521 and we may see the buyer's pushing this stock up to levels of 555-560. The risk-reward ratio would be approximately 1:4.

Disclaimer: This post is only for educational and tutorial purposes. Please do not consider it a trading recommendation.

Happy trading,
Satyarth Grover